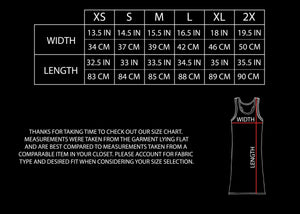 Product image 1
Product image 2

Product image 3
Rabbit Skull Antler Dress
Enter the enigmatic world of 'Rabbit Skull Antler,' Fennec Design's original collaborative design. This haunting collage is a dark fusion of nature's secrets, featuring snakes, rabbit skulls, moon phases, and an intricate ominous mandala. It's a timeless classic, an emblem of Fennec's artistic journey into the shadows, where each element whispers its own dark tale. Wear the legacy of 'Rabbit Skull Antler' and embrace the artistry that delves into the depths of the unknown, beckoning you into a realm where the edge of darkness meets the edge of style.
These dresses are certified sweatshop-free. Join us in embracing style, comfort, and conscious living by wearing your values with pride.
Size: Available in sizes XS to 2XL, Consult the size chart for more precise measurements of each individual size. 
Material: These dresses were crafted from 50% Polyester, 25% Ringspun Cotton, 25% Rayon in a lightweight 4.3 oz.