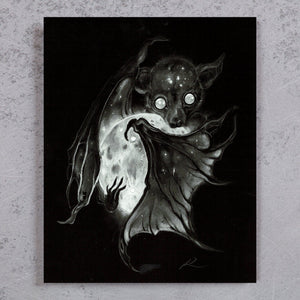 Product image 1

Product image 2
Bring a touch of mystery and enchantment into your home with this stunning 8x10 archival inkjet print of a bat hugging the moon. Crafted with white graphite and white watercolor on black paper, this haunting illustration captures the beauty and power of the natural world.

Each print is personally signed by the artist Brian Serway in pencil, making it a truly unique addition to your collection. And with its archival quality inkjet printing, you can be sure that this print will stand the test of time and continue to delight you for years to come.
Your print will arrive in a protective sleeve with mat board backing, shipped flat in a firm cardboard sleeve to ensure its safe arrival. Plus, with our entire collection from Brian Serway available to browse, you can find even more pieces that will capture your imagination.
Whether you're a longtime fan of Brian Serway's work or just discovering it for the first time, Waning Neonate is sure to intrigue and inspire. Shop now and bring a touch of magic to your decor!
Click here for our entire collection from Brian Serway. May or may not be purchased directly from the artist at brianserway.com.