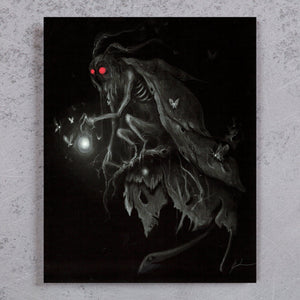 Get ready to embrace the darkness with this stunning 8x10 archival inkjet print of Mothman, signed by the artist Brian Serway in pencil. This eerie and haunting illustration is perfect for fans of the macabre, those who love cryptids, or anyone who wants to add a touch of the strange and unusual to their collection.
Crafted with care and attention to detail, this print is designed to stand the test of time, thanks to its archival quality inkjet printing. Plus, it's personally signed by Brian Serway, making it a truly unique addition to your art collection.
Shipping: Your print will arrive in a protective sleeve with mat board backing, shipped flat in a firm cardboard sleeve to ensure its safe arrival. You can also check out our entire collection from Brian Serway and find even more pieces that will capture your imagination.
Click here for our entire collection from Brian Serway. May or may not be purchased directly from the artist at brianserway.com.