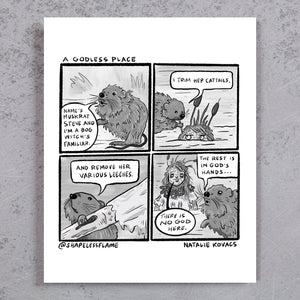 This 8"x10" print from illustrator Natalie Kovacs of Shapeless Flame is a perfect addition for anyone interested in the mysterious power of nature.  Her work often features her signature elements of cartoonish critters and cryptids of Appalachia with bright colors, line work, and cartoon paneling meant to educate about the natural world and make us feel a little less alone in the weird world we live in!  The addition of any of Natalie's work to a room will create a light-hearted, spooky feeling that could put a smile on anyone's face.
Print Info & Size: This is a small sized 8"x10" print.  Thosewhobloom frames are available in this size for easing framing.
Shipping: Print comes in a protective sleeve with stiff backing and shipped in a cardboard sleeve. 
Click here for our entire collection from Shapeless Flame. Learn more about the artist at shapelessflame.bigcartel.com.