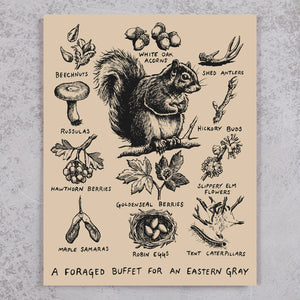 Embark on a journey into nature with this 11x14 print by artist Philippe Wells from Our Numinous Nature. Using dipping ink and nib pen, it beautifully portrays a squirrel amidst its bountiful diet. This depiction offers a charming glimpse into the world of our bushy-tailed friends. Whether in a cabin or a nature-inspired space, this print seamlessly bridges the outdoors and indoors, infusing your environment with the vibrancy of the wild.

Size: This midsized 11x14 print is standard sized for easy framing.  Thosewhobloom frames are available in this size.
Shipping: This print comes in a protective sleeve with mat board backing and is shipped flat in a firm cardboard sleeve. 
Click here for our entire collection from Our Numinous Nature. May or may not be purchased directly from the artist at ournuminousnature.bigcartel.com