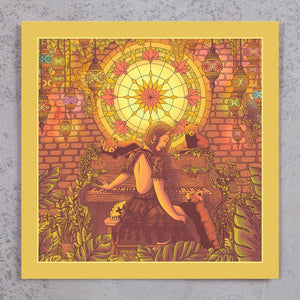 Fantasy art print by Stephen Willey of Eyes on Fire. "She Heals Everything" brings feelings of peace and warmth to any home. This art piece is printed on metal which catches and reflects light.  Alternative-style large limited edition wall art that makes a beautiful addition to a collection.

This art piece is part of the artist showcase "This Heaven You're Searching For is Already Here", which opened May 28th, 2022 and presented new work made by Stephen Willey from Eyes on Fire over the course of their artist residency at Those Who Bloom in Thomas, West Virginia from 2020-2022. 

Size: 12x12 archival inkjet print. Fantasy wall art featuring cute animals, a demon girl, and a piano. Drawn digitally on an ipad pro. Signed by Stephen Willey.

Shipping: Print comes in a protective sleeve with mat board backing and shipped flat in a firm cardboard sleeve.
Click here for our entire collection from Stephen Willey. May or may not be purchased directly from the artist at eyesonfireart.com.