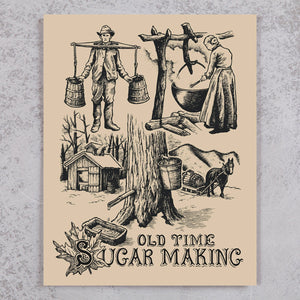 Old Fashioned Maple Syrup
Transport yourself to a bygone era with this unique art piece by Philippe Wells of Our Numinous Nature. This print weaves a tapestry of nostalgia, depicting the timeless art of maple syrup making, when nature and tradition were intertwined. It's an invitation to celebrate the essence of heritage and the spirit of craftsmanship, perfect for a cabin kitchen or rustic home. 

Size: This midsized 11x14 print is standard sized for easy framing.  Thosewhobloom frames are available in this size.
Shipping: This print comes in a protective sleeve with mat board backing and is shipped flat in a firm cardboard sleeve. 
Click here for our entire collection from Our Numinous Nature. May or may not be purchased directly from the artist at ournuminousnature.bigcartel.com