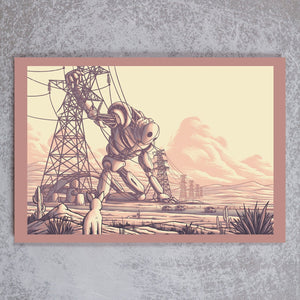 Fantasy wall art from Eyes On Fire, "Dreamcatcher" is a part of the epic Ouroboros series, which details the rise of giant robots in a run down society. Alternative-style poster art that is signed by Stephen Willey of Eyes On Fire.

Shipping: Print shipps in a protective sleeve with mat board backing and shipped flat in a firm cardboard sleeve.
Size: This medium sized 13"x19" inkjet print which is standard size for easy framing. Thosewhobloom wooden frames are available in this size. 
Click here for our entire collection from Stephen Willey. May or may not be purchased directly from the artist at eyesonfireart.com.