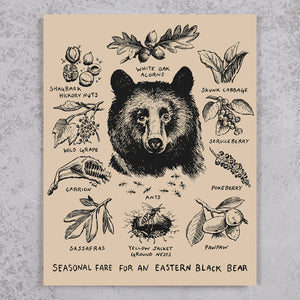 Immerse yourself in the wild with this 11x14 print by artist Philippe Wells of Our Numinous Nature. Crafted using dipping ink and nib pen and printed on kraft paper. The black bear's majestic face, surrounded by its natural feast, serves as a window to the great outdoors. Perfect for cabins or nature-inspired spaces, this print effortlessly brings the rugged beauty of the wilderness inside, adding a touch of adventure to your decor.

Size: This midsized 11x14 print is standard sized for easy framing.  Thosewhobloom frames are available in this size.
Shipping: This print comes in a protective sleeve with mat board backing and is shipped flat in a firm cardboard sleeve. 
Click here for our entire collection from Our Numinous Nature. May or may not be purchased directly from the artist at ournuminousnature.bigcartel.com