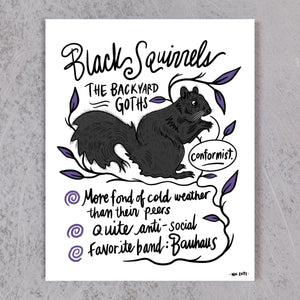 Product image 1

Product image 2
8x10 print from artist Shapelessflame Natalie Kovacs. Text reads: "Black Squirrels / The Backyard Goths / Conformist / More fond of cold weather than their peers / quite anti-social / favorite band: Bauhaus"  
Shipping: Print comes in a protective sleeve with stiff backing, shipped flat in a cardboard sleeve.
Click here for our entire collection from Shapelessflame. May or may not be available directly from the artist at shapelessflame.bigcartel.com.